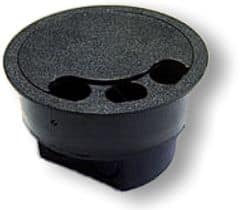 Product enquiry and further information (Contact us form)

The 1.5mm thick anodized aluminium plate is fixed in place by 2 x 4mm screws into the floor box assembly and depending on type selection can accommodate either rj45, BT or 13amp sockets (not included).
There are four knockouts (2 x 20mm and 2 x 25mm) for under floor cable entry, two on the bottom and two on the side.
The floor boxes are available in black or grey as standard but specials can be accommodated.
Technical Specification
Overall diameter of bezel
Fixing hole size
Flange depth below surface
Bezel thickness above surface
Inside diameter of flange
Depth of connector box
Max cable diameter
Diameter of aluminium plate
Material of box
Standard Plate Options
4 X SHUTTERED RJ45/BT SOCKET

CR125FBGRP (GREY)
CR125FBBRP (BLACK)

1 X 13AMP SOCKET

CR125FBGSP (GREY)
CR125FBBSP (BLACK)