Ceramic Knuckle Heaters
Ceramic knuckle band heaters are designed to provide high-performance heating at temperatures up to 760°C (1400°F). This level of performance is achieved from the ceramic knuckles that provide excellent insulation and long heater life.
The construction of the ceramic knuckle heater includes interlocking ceramic blocks with resistance wires threaded through holes in the ceramic. This method provides superior heat distribution across the band, resulting in an uniformly heated surface. Ceramic knuckle heaters are specifically engineered and manufactured with three layers:
Aluminised steel sheath layer - improves mechanical protection to heater and resists corrosion.
Ceramic fiber layer - provides thermal insulation, energy conservation and minimizes heat loss.
Ceramic knuckle layer - provides mechanical protection and electrical insulation to the resistance element, which increases heater life and conducts or radiates the heat to the surface.
Ceramic Heaters are suitable for High Heat applications, having wattage 45w/square inch. Heaters can be in one - piece for wrap arond fitting. A Terminal Box is normally fitted with vent slots, supply single or 3 phase.
These can be manufactured to customers requirements, with cut outs to suit.
Non stock sizes normally within 3 weeks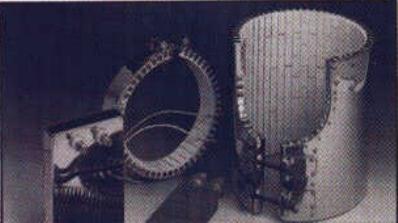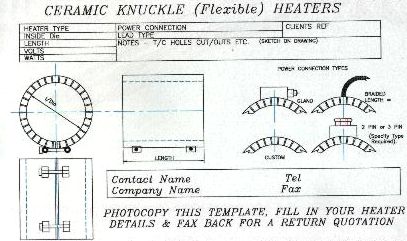 Specifications

Diameter: 50.8 mm (2 in.) to 381.0 mm (15 in.)
Width: 38.1 mm (11/2 in.) to 254 mm (10 in.)
Thickness: 12.7 mm (1/2 in.)
Sheath: Aluminised steel (stainless steel optional)