Drum Heaters
Range of drum heaters that are suitable for melting or reducing the viscosity of many materials as a protection against freezing temperatures.
High powered silicone side heaters and base units are suitable for use on steel drums and are ideal for materials that readily accept the high temperatures generated.
The thermally insulated nylon heater jackets are designed for use with plastic drums but can be used on any containers where delicate materials such as foodstuffs require gentle warming. All drum heaters have thermostatic control and have been designed with safety in mind.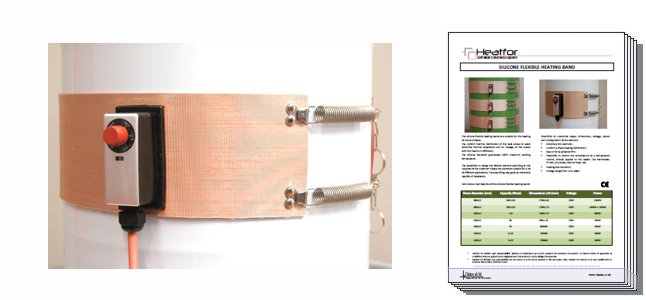 Clarian drum heaters (PDF datasheet) Product enquiry and further information (Contact us form)

Silicone Side Drum Heater
The silicone side drum heater is a simple and effective method of applying heat to 200 Litre drums ( multiple heaters up to a maximum of three can be fitted to a single drum to give quicker warm up times and higher product temperatures. The heater is specifically designed for the melting or reducing the viscosity of soaps, fats, varnishes and oil based type products.

The heater is silicone rubber insulated constructed to Class II double insulated standards with a high temperature tolerance. The heating element is PTFE coated and sandwiched between multiple layers of silicone coated glass fabric. The unit comes complete with a 0 to 130C° thermostat, 1 metre high temperature power cable and a simple spring and clip arrangement that ensures good surface contact with the drum.
STANDARD DRUM HEATER PRICE LIST WITH DELIVERY FROM STOCK
QTY
pcs
200L - diam 580 (+/-10mm)
230V 1500W 1700x115mm
£/pc
110L - diam 455 (+/-10mm)
230V 800W 1300x115mm
£/pc
55L - diam 340 (+/-10mm)
230V 500W 950x115mm
£/pc
25L - diam 295 (+/-10mm)
230V 300W 800x95mm
£/pc
10L - diam 250 (+/-10mm)
230V 400W 700x95mm
£/pc
2
£206.12
£189.52
£174.15
£158.50
£154.69
5
£139.18
£124.08
£106.25
£100.68
£98.36
10
£123.20
£109.18
£91.63
£87.14
£84.69
20
£100.91
£89.08
£72.89
£69.76
£66.63
50
£91.12
£80.06
£64.56
£61.70
£59.66
100
£77.86
£67.79
£55.14
£52.41
£50.65
Prices excluding vat and delivery charge.