Crankcase Heater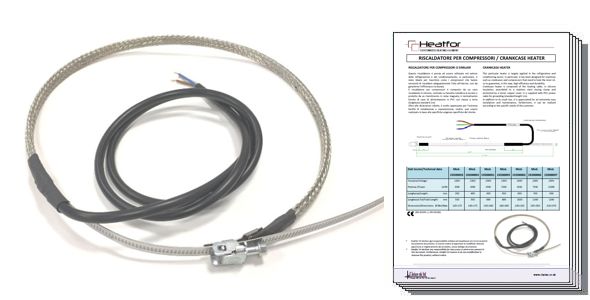 Clarian Crankcase Heater (PDF datasheet)Product enquiry and further information (Contact us form)

This particular heater is largely applied in the refrigeration and conditioning sector, in particular, it has been designed for machines such as crankcases and compressors that need to heat the inner oil, so to guarantee, in this way, high efficiency and durability.
Crankcase heater is composed of the heating cable, in silicone insulation, assembled to a stainless steel closing clamp and protected by a tinner copper cover; it is supplied with PVC power cable for grounding (standard length 1m).
In addition to its small size, it is appreciated for an extremely easy installation and maintenance, furthermore, it can be realized according to the specific needs of the customer.

Mod. #

Voltage
Power ±10%
Length
Total Length
Dimensions Ø Min/Max

CKD00003

230V
35W
350mm
550mm
120÷175
CKD00004

230V
40W
400mm
550mm
140÷175

CKD00001

230V
45W
450mm
880mm
150÷280
CKD00005

230V
55W
550mm
880mm
180÷280

CKD00002

230V
65W
650mm
1020mm
220÷320
CKD00006

230V
75W
750mm
1160mm
245÷350

CKD00007

230V
120W
930mm
1200mm
310÷370
Show More...