Uncompromising controllers: RT7000
The RT7000 is the top expansion level of the RT family. From 8 zones to 32 zones, this system can map as wide a range as a multi-zone controller. Two 32-zone controllers can then be expanded to 64-zones via cascading. Larger systems are implemented as customer-specific variants. Operation is via a 7-inch touch display or via our innovative App-based remote control unit.

Particular performance features:
Particularly fast control with minimal overshoot and thus protection of particularly sensitive heaters, such as in the nozzles.
Intuitive operation and rapid integration
Remote control via APP and ELOVISON
Clearly illustrated control surfaces ensure intuitive operation. The user can choose between different display variants: Standard zone illustration, process illustration or graph/PID illustration.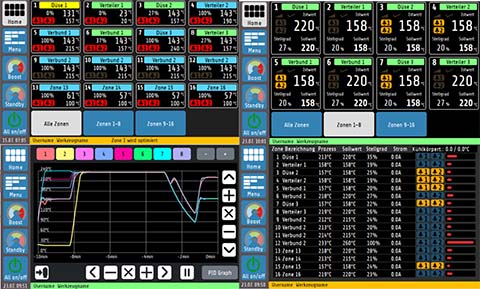 In an emergency: Alarm
The heating process is automatically interrupted at temperature over/undershoot, power surge or sensor failure (sensor break). Rapid, unplanned temperature or energy increase, e.g., at a nozzle, can be an indicator of a leak. The system is switched off. To ensure that no data is lost, it is possible to set a back-up via USB storage.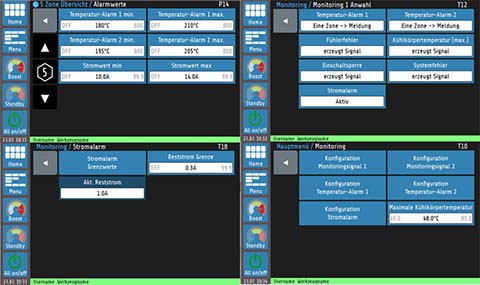 Product variants:
8, 12, 16, 24, 32 zones
From 1st half-year 2021: 40, and 48 zones and cascadable to 96 zones.
Larger variants are available as custom solution
Fuses can be accessed from the inside. In another upcoming product variant (1st half-year 2021) the fuses will also be available externally.
Passive cooling.